Cape Town - Although the Western Cape's deciduous fruit industry is currently meeting the pollination requirements needed, the sector is expected to grow as demand for pollination services is set to double over the next decade.
To mitigate this, the Department of Agriculture is working with bee associations in the Western Cape, and has released a new strategy aimed at ensuring the sustainability of the province's bee population.
According to the South African National Biodiversity Institute, more than 50 different crops in South Africa are reliant on insect pollination, and the honeybee is as important to agriculture as water, land and air.
In the Western Cape, 50% of commercial bee-keepers' revenue currently comes from pollination services, with the remaining 50% coming from the production of honey and other bee-related products.
According to Hortgro, the representative body of the South African deciduous fruit industry, the current pollination needs required by bee-dependent deciduous fruit crops are 65 000 pollination units, a demand currently being met.
This is forecast to grow by at least another 30 000 units over the next decade, because of new cultivars and growth in agriculture, while the seed industry is also forecast to increase demand for pollination units by 30 000 over the next decade and the berry growers by another 20 000 units, thereby resulting in the demand for pollination services being expected to double in the next decade.
However, the bee industry has identified several problems affecting bees, including insufficient forage, theft and vandalism, disease, and environmental hazards, such as pollution, and exposure to external factors such as fires and drought.
The new strategy aims to ensure the ­continued sustainability of the bee population by focusing on five key areas, including: ensuring sustainable bee forage; research and innovation; developing a regulatory framework; transformation in the industry, and governance and stakeholders.
According to the bee industry, the single largest concern was that there would not be enough forage for bees in the Western Cape, as South Africa's honeybee species rely on both indigenous and exotic species, like eucalyptus, flowering crops and suburban plants to provide forage sources year round.
Economic Opportunities MEC Alan Winde welcomed the strategy.
He said a properly regulated and managed industry had the potential to create jobs and expand the economy.
"The report shows that in South Africa, we import a lot of honey. South Africa has imported 2 000 tonnes of honey annually since 2010, and honey production has dropped to 40% of what it was in the 1980s. This is an agri-processing opportunity: to produce local honey, and honey-related products, right here in the Western Cape," he said.
Tlou Masehela, the chairperson of the Western Cape Bee Industry Association, said: "This is a detailed plan, and we now have a line of communication with the various government departments. This will require resources - and we must explore ways of getting those. The industry at large should really pull together and make this work."
 joseph.booysen@inl.co.za
 Cape Argus Per article  https://www.iol.co.za/capeargus/news/plan-launched-to-save-western-cape-bee-population-15324841
"THE SOLUTION"
Seedleme indigenous seeds bombs are an easy, quick and fun way to create a solution to the lack of insufficient forage for the South African bee population. 
More interesting facts on Bee decline. 
Globally, the fate of bees, as well as their important role in pollination and food production, have been in the spotlight. Wilma den Hartigh spoke to industry experts about the decline in bee numbers, the causes thereof and what can be done to safeguard global populations.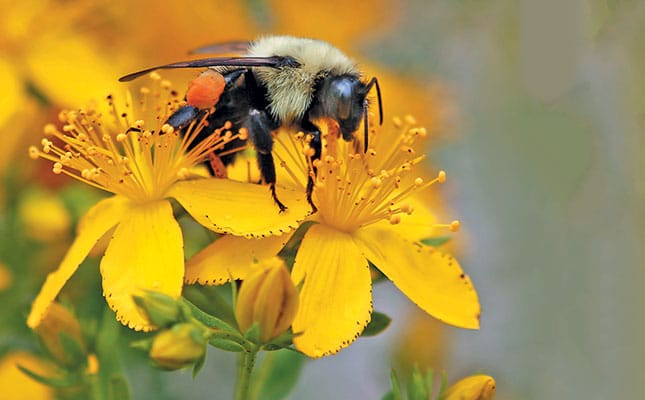 However, there has been continued debate amongst scientists over the reasons for the steady decline in global bee populations over the past several years.
Current theories
Dr Christian Maus, global lead scientist and bee care and pollinator safety manager at Bayer Crop Science in Germany, says that there are numerous misconceptions about bees and their conservation status, as many people do not know the difference between honey bees and wild bees.
READ The key to successful honeybee farming
Most honey bees, Apis mellifera, are kept by beekeepers and make large volumes of honey, whereas wild bees exist only in the wild and make very little honey, which is for their own consumption.
Maus spoke to Farmer's Weekly about some of these misconceptions.
Honey bee populations are declining
According to a paper published in the International Journal for Parasitology by the United Nations' Food and Agriculture Organization (FAO), honey bee populations are decreasing.
"Currently, both managed and wild pollinators are suffering alarming declines in many parts of the world," the paper states. Maus says that this assertion is inaccurate; honey bee numbers are "clearly rising" and not declining. "Honey bees are not endangered and not on a list of endangered species."
He agrees, however, that wild bee populations are decreasing, and argues that the greatest threat to these populations is habitat loss, as most wild bee species rely on specific habitat structures, as well as plants and nesting sites, which are declining as a result of modern agriculture.
Pesticides are a great threat 
Maus says that many people think pesticides are largely responsible for declining bee populations, but he rebuts this theory. "According to all the data we've seen, pesticides play a minor role in this respect," he says.
However, he warns that pesticide risks could increase if formulations are "incorrectly or indiscriminately" applied.
Without bee pollinators, there would be food shortages
Maus explains that as only 5% to 8% of global agricultural production depends on pollination by bees and other insects, the loss of bee pollinators would not result in food shortages. "Many crops do not need insect pollination as they are wind-or self-pollinated."
Crops such as maize, rice and potatoes do not require the assistance of pollinators, while other crops can be pollinated by other pollinators, including flies and butterflies. Humans can also hand-pollinate crops that are grown in regions where natural pollinators do not occur, he says.
However, contrary to Maus's assertion, the US-based Xerces Society for Invertebrate Conservation says that bees and other pollinators assist in the reproduction of almost 70% of all flowering plants, while fruit and seeds from insect-pollinated plants account for more than 40% of all food and beverages consumed.
Moreover, fruit and seeds derived from insect pollination are a major part of the diet of about 25% of all birds and of mammals.
Are pesticides to blame?
The US initiative to protect endangered bee species has become a talking point worldwide. In South Africa, bees have not yet been afforded similar protection.
Stephan du Toit, beekeeper and CEO of Du Toit Honey Farms near Vredefort in the Free State, says that South Africa needs to improve the protection of its bees.
Du Toit says that improved communication between farmers, beekeepers and crop protection companies could help strengthen bee populations.
READ Biological pest control basics
"What often happens is that beekeepers talk to the farmer where hives are stationed about their spraying programmes, but not to other neighbouring farmers. You have to find out about the spraying programme of neighbouring farms too," he says.
Internationally, studies have linked certain pesticides with declining bee populations. According to a study published in the international weekly journal of science, Nature, a decrease in many populations of wild bees across the UK over the past nine years coincided with the use of chemicals known as neonicotinoids.
In the paper, ecologist Nick Isaac from the Centre for Ecology and Hydrology in the  UK, writes that the study's results proves that neonicotinoids are harmful to wild bees.
Monocropping: A threat bee's to health
Lezanne van Zyl, a small-scale beekeeper and honey producer, says that monocropping is a risk to the health of bee populations.
"Putting a beehive into a land of canola would be similar to a person eating only bread," he says.
Bees need a variety of food sources to strengthen their immune systems, which is why many beekeepers in the Western Cape station their hives in fynbos areas.
According to Van Zyl, farmers in the Western Cape's wine production regions could plant cover crops such as clover in their vineyards.
This would provide bees with a nutritious food source, particularly in winter, and enhance vineyard nutrition. Farmers should also consider companion planting to reduce monocropping.
Commercialisation
Another paper published in the International Journal for Parasitology says that the increasing demand for food and intensive agriculture has resulted in a growing demand for pollination services, placing additional pressure on wild bees.
Many wild bee populations currently suffer from reduced genetic diversity, and, as a result, face increased vulnerability to infectious diseases and other stressors such as pesticides and reduced resources.
Saving the bees
Maus says that research into the causes of colony mortalities in honey bees is underway, while improved hive management and beekeeper education is being implemented in some countries.
He encourages farmers to collaborate with beekeepers.
"It's important to communicate about application timing, particularly when insecticides are being applied. Moreover, use all products strictly according to the label. Where possible, avoid application of insecticides during flowering and bee flight."
He adds that farmers should maintain natural vegetation and encourage the flowering of wild plants near crop lands.
If there is a shortage of flowering plants in the region, farmers should sow seeds to provide additional foraging options for pollinators.
Du Toit says that preventing parasites such as American foulbrood (AFB) within rearing facilities is essential as this highly destructive disease is easily spread through the use of contaminated equipment, the beekeeper's hands or hive tools.
AFB can also spread through infected imported honey.
Du Toit says specific legislation, which would require and regulate the testing of imported honey and honey products, should be introduced.
"There's just not enough action in terms of monitoring AFB. It spreads so easily," he says.
https://www.farmersweekly.co.za/crops/field-crops/how-do-we-save-our-bees/
Sir David Attenborough Is Telling People How To Help Bees In Their Backyards
Documentary filmmaker and naturalist Sir David Attenborough is an incredibly influential person when it comes to both conservation and environmentalism. 
Like the rest of the world, she was reportedly horrified by the evidence presented in Attenborough's BBCdocumentary Blue Planet 2 in 2017, which showed the destruction being wreaked upon marine life by plastic waste.
In particular, the story of a pilot whale who lost her calf to toxic exposure from plastic chemicals made many aware of what their casual plastic use was doing to other living creatures.
Now, Sir Attenborough is asking for people to consider another species on the edge of collapse: the honeybee.
On his Facebook page, Attenborough urged followers to look out for pollinators making their way from flower to flower. Not all bees that seems disoriented, or found wandering on the ground, are near death. They might just need some help.
"In the last 5 years the bee population has dropped by 1/3," he wrote. "If bees were to disappear from the face of the earth, humans would have just 4 years left to live. This time of year bees can often look like they are dying or dead, however, they're far from it. 
"Bees can become tired and they simply don't have enough energy to return to the hive which can often result in being swept away. If you find a tired bee in your home, a simple solution of sugar and water will help revive an exhausted bee.
"Simply mix two tablespoons of white, granulated sugar with one tablespoon of water, and place on a spoon for the bee to reach. You can also help by sharing this post to raise awareness."
A small drop of advice for bee-lovers, or for anyone who is concerned about population die-off for hives. According to the Sierra Club, there's no one specific reason why bees are dying; rather, it's a combination of "parasites, pathogens, pesticides, poor nutrition, and habitat loss."
Some countries have
banned or limited
the use of harmful pesticides associated with colony collapse disorder, but there are still more things average citizen can do.
Beyond a spoonful of energy boosting potion, there are a number of ways to help bees. Growing flowers that attract them is helpful, especially in urban environments where they might have to travel considerable distance to find food.
Amateur beekeepers have even been opening up hives in strategic places in cities, as a way to support hives and educate the general population about the importance of bees to our food system.
You may not be ready to manage an entire bee hive, but consider sparing a spoonful of sugar for your friendly neighborhood bee.